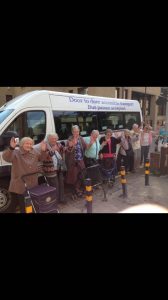 Borrow a Bus!
Subject to availability, a minibus with one of our trained and DBS checked drivers can be "borrowed" by any voluntary or community group, or an individual who requires a wheelchair accessible vehicle for a journey which is not covered by our dial-a-ride service.
Charges:
£40 required at time of booking. Non-refundable if cancellation within 72 hours of borrowing bus.
9 – 14 Seater Buses
Up to 100 miles £140
Up to 200 Miles £200
Go to the 'Contact us' page to send an enquiry.